Logs are used in Studiometry to track correspondences (such as emails, phone calls, etc) that are linked to your items within Studiometry. For example, you can create a Log of an email that is linked to a specific Client and Project. The Log can contain the content of the email, and will appear when viewing Logs for the Client or the Project.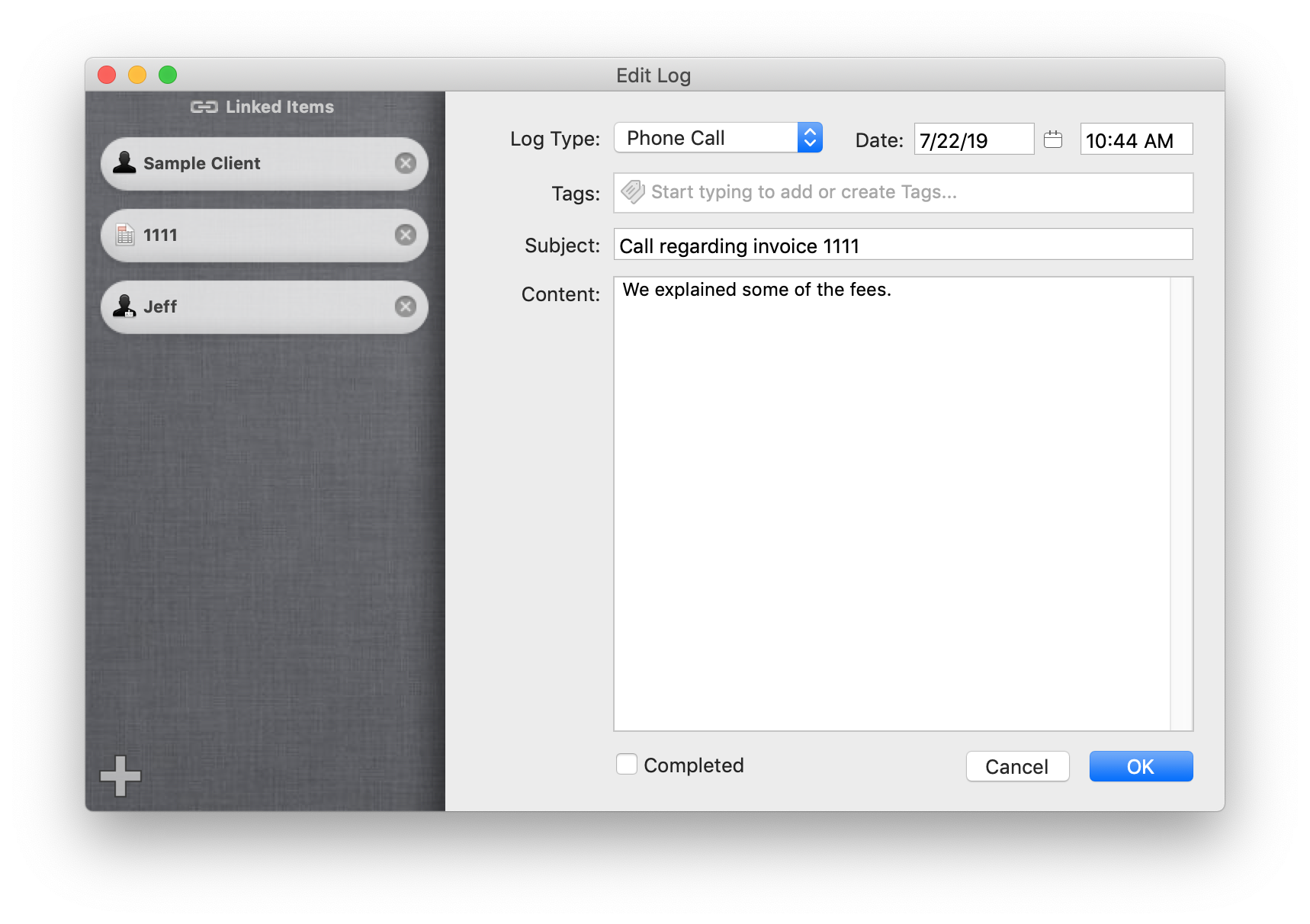 Log Types
Studiometry has several built in "types" of Logs, such as:
Phone Call
Meeting
Email
Letter
You can customize the list of types by clicking on the Log Type list and selecting "Edit This Menu." With this, you can use Logs to track any text-based notes that you want to keep in Studiometry, linked to your Studiometry items. So it doesn't have to be just correspondences, it could anything.
Links to Studiometry Items
You can link a Log to Clients, Projects, Contacts, Invoices, Reports, To Dos, or Employees. One Log can be linked to multiple items to indicate any relevant items related to the Log. Clicking on a linked item in the Log will open it within Studiometry, and linking a to a Client or Project will cause the Log to appear in that item's Logs list.
Links to external emails using Drag & Drop
You can add links to emails from Apple Mail (or a select few other email clients) by dragging and dropping the email into the Linked Items list in the Log editing window, or you can create a new Log with the email by dropping it into a Client's or Project's Logs list. This will add a link to the exact email which, when clicked, will bring up the original email in your email client.
Adding Web Links as Logs
Just like with email links, you can add web links or any other type of URL by dragging and dropping it into the Linked Items list or into a list of Logs to create a new Log with the link. These function as clickable links to easily access web pages or other URLs.
Automatically Importing Emails as Logs
If you'd like to have your emails automatically imported into Studiometry as Logs, please see this Knowledge Base article:
Integrate Studiometry with Apple Mail, Entourage, or other email clients
Using Logs to Create To Dos, Events, or Work Items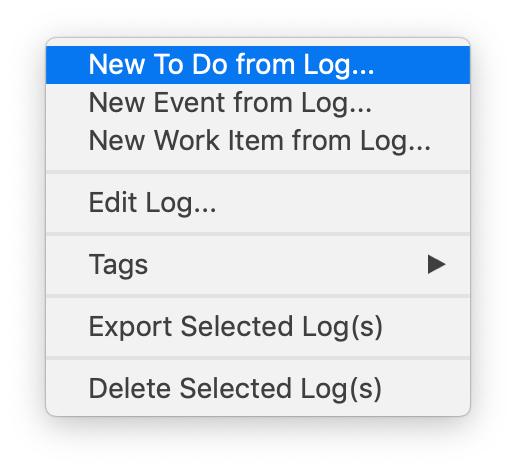 When viewing a list of Logs in Studiometry (such as a Client's or Project's Logs list) you can right-click on a Log and choose the following options:
New To Do From Log...
New Event From Log...
New Work Item From Log...
Doing so will help you create the specified item with pre-populated fields, and upon creation will automatically add a Link to the newly created To Do/Event/Work item on the original Log.